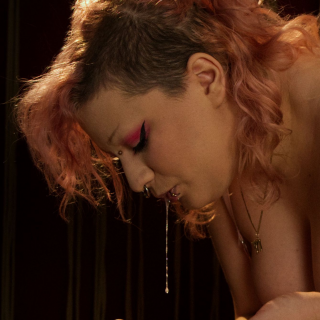 Kayleth
23:47 | Added 1 year ago
With the writing of our last film still covering my body me and Trix still had the energy to film some more and so decided to indulge in one of my favourite fetishes! (well two actually!) face distortion (with hooks!) and humiliation.
Trix takes control of me using her ropes to pull me into a strict but comfy hogtie position , legs spread making my ass easy top access to grope and spank with my arms pulled in front of me.
Once I'm in that vulnerable position, face presented and ready to be messed with- Trix decides I'm being a bit too vain- wearing so much makeup? Who am I showing off for- I should have that vainness stripped off me and Trix knows the perfect way.
first my nose is deformed into a piggy shape and then my mouth is held open. After all even if I'm not pretty I can still be useful with my mouth open it can be so easily filled.
Find Imaginatrix on APclips and all the rest of her links at linktr.ee/hypnohedonista