BTO Video Help Center
What's a BTO Video?
A Built-to-Order (BTO) Video is just our fancy way of saying "custom video". It's "built to order" because users like you can send a request to a Creator, and briefly explain what it is you'd like to see in a custom video from them. During Negotiation, you can offer more (or less) tokens, discuss details with the Creator, accept the Creator's Requested Price, or cancel the BTO negotiation entirely. You're under no obligation to pay a set amount until the end of the negotiation, you don't need to have the tokens you're offering (until after negotiation) and you can cancel at any point during the negotiation. Freedom, baby!
How does the BTO interface work? What do these buttons do? (and other BTO interface questions)
Below is the basic BTO Negotiation interface, with labeled explanations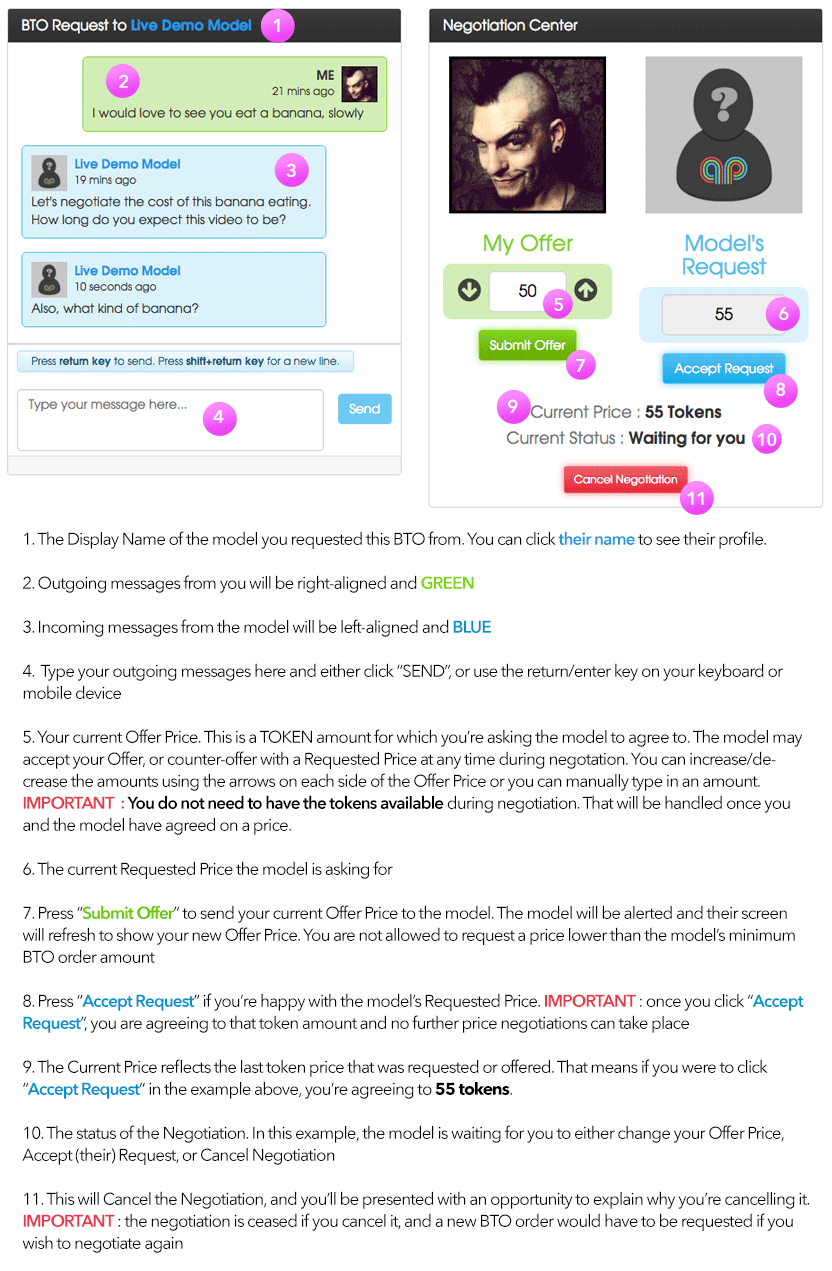 What happens once we've negotiated and settled on a final price?
Once you've either accepted a Creator's Requested Price, or the Creator has accepted your Offer price, you will be given a final confirmation screen. If you don't have enough tokens to cover the BTO Order, you will be asked to purchase the required number of tokens before continuing.
After you've confirmed your BTO order, your tokens will be removed from your account and placed into an escrow until the Creator delivers the BTO video to you. When you confirm your BTO order, the Creator is asked to estimate a Delivery Date for your BTO video. If the Creator does not deliver your BTO Video within 3 days of that Delivery Date, the BTO Video transaction is cancelled and your tokens are immediately refunded.
Can a BTO Order be CANCELLED after a negotiation?
If you need to cancel a BTO order after negotiation, you'll need to contact support@apclips.com and tell us.
Is a Creator REQUIRED to deliver on the date they set for the BTO Video?
Yes, the Creator is required to deliver your BTO Video to you within 3 days of the date they promised. If the BTO Video is not delivered within that time frame, the BTO Video order is cancelled and your tokens are immediately refunded.
What if I'm unhappy with the BTO Video I received?
That's a tricky question to answer. But if you're unhappy with the video, we recommend a very polite, and cordial message to the Creator to try and clear up the discrepancy. DO NOT harass the Creator, post negative remarks to their Profile Wall, or send a barrage of messages to the Creator as that is grounds for account deletion.
If you'd like us to get involved, or the Creator is uncooperative or unresponsive, you can email support@apclips.com and explain the situation to us. We're here to help and we'll do our best to resolve the situation to your satisfaction.
My Question/Concern isn't listed here. What now?
By all means, please reach out to support@apclips.com with any questions or concerns and we'll do our best to alleviate any issues you're having.